Online Review Meeting of the Accessibility Plan on the Tsinghua University Campus

2020-04-21

Institute for Accessibility Develeopment
Online Review Meeting of the Accessibility Plan on the Tsinghua University Campus
The online review meeting of the accessibility plan on the Tsinghua University campus took place on April 21, 2020. The Construction and Campus Planning Office, Tsinghua University, invited reviewers from the National Accessibility Expert Committee, the Beijing Municipal Commission of Planning and Natural Resources, the Beijing Physically Disabled People Association, the Research Institute of Highway Ministry of Transport, and the Architectural Design and Research Institute of Tsinghua University to discuss and review the special plan. The Institute for Accessibility Development, Tsinghua University, was appointed to give a speech on the research report as the research team.
In the pursuit of building a world-class university, it is essential for building an inclusive campus to ensure the participation, sharing and cooperation for all. The review panel agreed that the accessibility plan, the first time written into the Tsinghua University Master Plan, should be innovative to highlight the importance of the inclusive campus environment nationwide.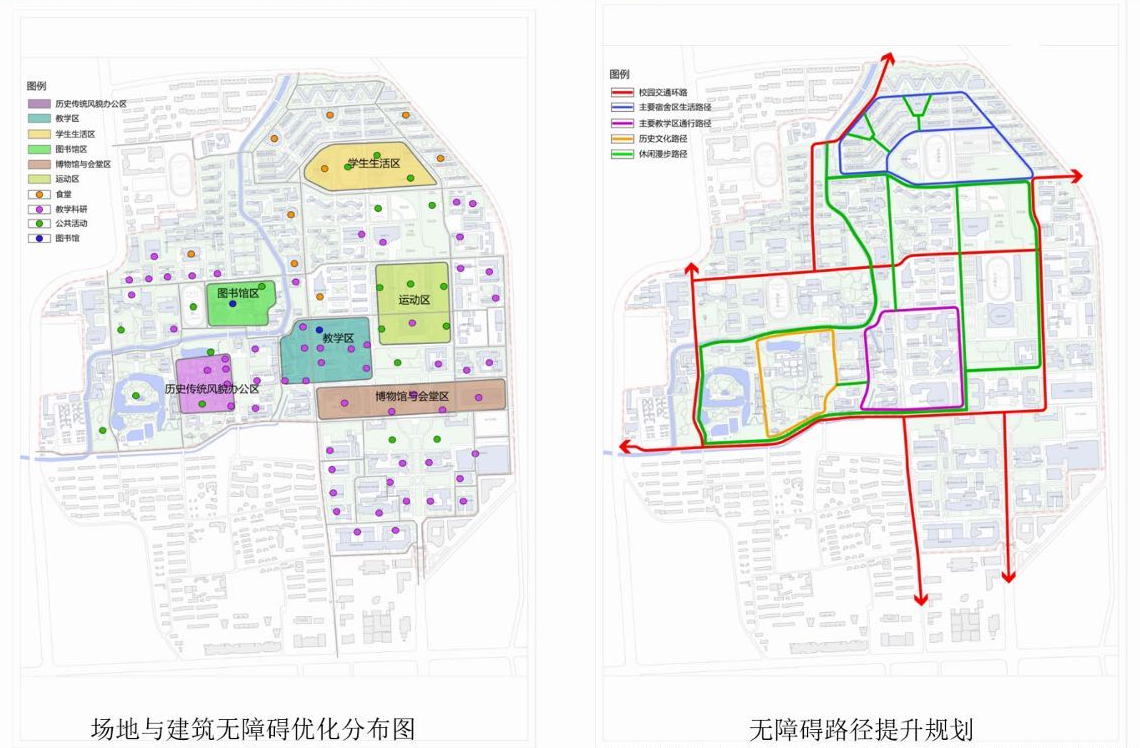 Inclusive Campus Layout
The research team, led by Lei Shao who works at the School of Architecture, Tsinghua University, conducted a solid research and investigation based on the analysis of global development trends on accessibility, the experience of world's top universities; the questionnaire of campus accessibility recognition and needs, the assessment of physical accessibility at the Tsinghua campus, the support of accessible renovation projects, such as student dormitories and libraries, and the interviews of several experts from CDPF and the Beijing Municipal Commission of Planning and Natural Resources, Tsinghua students with disabilities from Tsinghua University Student Society for Accessibility Development Study and wheelchair users from NGOs. As a result, it took two years for the accessibility plan to complete, which provided professional guidelines on inclusive campus environment for all universities and schools in China.
The accessibility plan was highly recognized by the review panel. The representative from the Construction and Campus Planning Office, Tsinghua University expressed his gratitude to the research team and reviewers, and said that Tsinghua University is committing to building a universal accessibility campus environment, and the combination of theory and practice plays a significant role in the accessibility development for Tsinghua University. As a continuous and dynamic work to improve the accessible environment on Tsinghua campus, he hoped to continually gain support from the research team and reviewers to carry out the accessibility plan.