"Inclusion and Diversity" International Conference on Accessible Development

2018-10-15

Institute for Accessibility Develeopment
The "Inclusion and Diversity" International Conference on Accessible Development, hosted by Tsinghua University and guided by China Disabled Persons' Federation, and themed "Inclusion and Diversity", took place on October 15, 2018 in Beijing and brought together practical experiences, studies and high-tech innovation and products from all over the world. Speakers shared their insights and ideas, and discussed global trends and future development on accessibility.

LYU Shiming, Vice Chairman of China Disabled Persons' Federation, congratulated a success of the conference and hoped that it would help show the latest achievements in the field of accessibility, enhance international exchanges, and attract more people to pay attention to accessibility development.
Peng Gang, Vice Provost and Vice Team Supervisor of the Leading Group on Arts, pointed out that accessible environment construction would be an important manifestation of equal development and social inclusion, as well as an important research field and the direction of discipline development and scientific and technological innovation in the new era. In the process of building world-class universities, Tsinghua University will continue to strive to build an inclusive Universal Accessibility campus.

Meanwhile, Marielza Oliveira, UNESCO representative in China, said that in China, UNESCO UNESCO would actively cooperate with other United Nations agencies, China Disabled Persons' Federation, and other organizations to strengthen rights for persons with disablitites. She also emphasized that everybody should help those with disabilities integrate into society.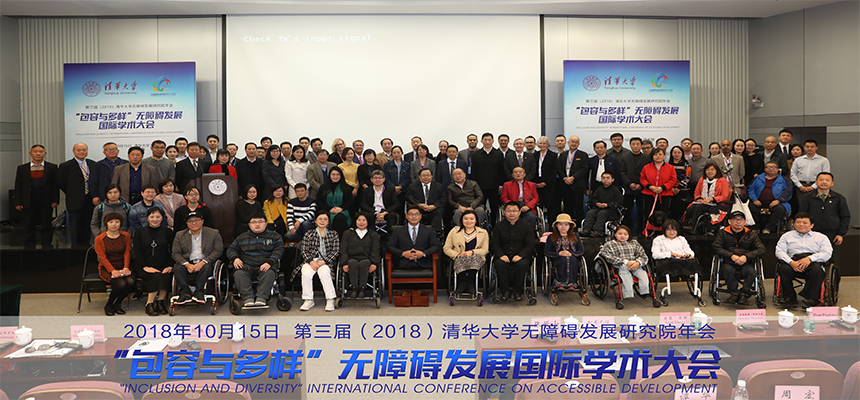 There were more than 20 experts and scholars talking about policy, universal and inclusive design, assistive techonology and products at the conference, including Japan Financial Services Agency, Syracuse University, the University of Sydney, the University of Copenhagen, International Paralympic Committee, European Network for Accessible Tourism(ENAT), Beijing Institute of Architectural Design, Tsinghua University and other institutions.